At Sawara town in Katori city in Chiba prefecture, where just 90 minutes from Tokyo by train, you can amazingly enjoy the atmosphere of Edo period which it was 400 years ago. Even Japanese people don't know what the Edo area was, but everybody come here can enjoy totally the mood of Edo period just like movie set in studio for file.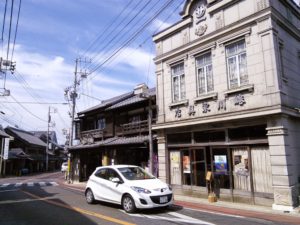 The prosperous history of Sawara started in the late 1500s a bit earlier than Edo era.In 1590, Tokugawa Ieyasu who would be the first shogunate, was transferred to Edo, and tried a big project of diverting the course of the wild Tone River away from Edo so that it would flow far eastwards into the Pacific Ocean. In about 60 years' time, the Tone River was reborn into the new route of transportation, fast and safe, to Edo. From Sawara river port, the fright ships carried to Edo ( a population of over one million) many kinds of products from the farmland around Sawara, northern Japan and fishing village along the Pacific Coast. Past the mid Edo era, Sawara rose from a quite village to a provincial center of commerce. The golden age of Sawara lasted until the late Meiji era.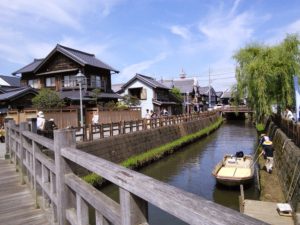 The landscape of the town seems quiet and calm with the scenery of the river, wooden old traditional houses add more nostalgic mood. Although the old style mood, in some houses they serve casual and modern service like café and restaurants.
If you would like the Traditional Japanese history and atmosphere, I strongly recommend here to enjoy the real Edo period.